I Finished My Memoir! Now What?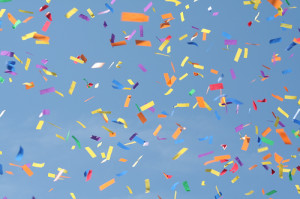 For years, I've dreamed about the moment when I finally finished the first complete draft of my memoir. I imagined confetti falling out of the ceiling, maybe some triumphant trumpet music playing, and a crowd of all the friends and family who have heard me complain, agonize over, and gush about the book for the past five years running into my room, cheering for me and hugging me.
Of course, what really happened is that I stopped typing and stared at the screen in silence for a few minutes.
I'm…done? I thought.
I felt a little flicker of happiness and accomplishment, sure. Throughout the years of angst and writer's block and a frequent desire to give up, I'd wondered many times whether I'd ever actually finish the book. Just finishing it was a big deal. But then I realized that I'd still need to have a few beta readers look it over, do more edits on it, write a query letter and send it off to agents, then eventually do even more edits if/when it gets picked up by a publisher. I was far from done.
So, instead of feeling all the great feelings I thought I would – instead of confetti, trumpets, and cheers – what I experienced, instead, was panic. Finishing the manuscript, in many ways, is only the beginning of the process. I'd always known that, but for some reason, I thought getting to the next step would feel different.
I started thinking about how tough it was going to be to write the query letter. I worried about the realities of sending the memoir out into the world, wondering what people would think of it if/when someone decided to publish it, afraid of how my friends and family might feel after reading it. This idea, this story, that has been living in my head for so long, can finally take the next step forward into becoming an actual book.
Holy shit.
Am I ready to take the next step? Will I be able to get everything together? Will I have the bravery and strength needed for such a task?
Well, despite the near-paralyzing fears I've encountered, I've already started writing my query letter, checking in with beta readers, and getting feedback. I'm researching agents and publishers. I keep having to remind myself that I shouldn't let this publication process negate what I've already accomplished. Although the book won't feel 100% real until I'm holding the finished, printed copy in my hands, I'm so much closer than I've ever been. I've got the story down, which is truly the hardest part.
It's easy to feel overwhelmed with the process. All of this is new to me. Even though I've been writing for years, this is new territory. It's terrifying, it's overwhelming, but it's exciting too. I don't know what's going to happen, but I can try to feel good about how far I've already come, and keep taking steps to move myself, and my memoir, forward.