Lessons Learned from Starless Skies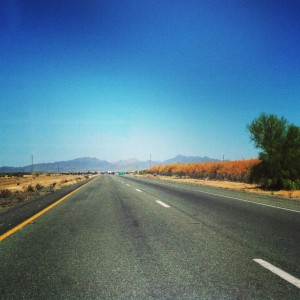 A few weeks ago, my boyfriend and I took a trip to Sedona, AZ. We'd both heard about the infamous vortexes and New Age culture, but we're not into that scene. Our decision to go was based on cheap hotel availability, drivability, beautiful landscapes, and the ability to see the stars at night.
That last one was probably the biggest draw for us. We share a love of all things space. Since we're both long-time residents of Los Angeles, our opportunities to see more than a handful of stars in the night sky have been few and far between. Because of Sedona's isolation and elevation, we were promised an amazingly clear view.
Before we left, my mother excitedly informed me that we'd enjoy a full moon while we were there. When I shared this with my boyfriend, he said, "Oh…that's not good." Amateur stargazers, such as myself, might not know that a full moon emits so much light that the stars get drowned out. To our great disappointment, this was true. The moon looked lovely, but the sky was too bright to see stars.
Even though we both love the moon, those nights in Sedona, we found ourselves cursing it. I tried not to get too discouraged. We did research and tried to see if there was a gap between the sunset and moonrise we could try to catch.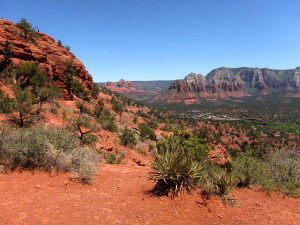 In the meantime, we enjoyed what Sedona had to offer. We climbed to the top of a tall red rock and looked out at the city. We took a day trip to the Grand Canyon. We visited a vortex and didn't feel anything funny. Then we got into a long debate about vortexes and whether places or people have special energy.
But we didn't see many stars. The last night of the trip was the one night we had a big enough gap to possibly see some between the sunset and moonrise. We went outside after a dinner of burgers and rattlesnake bites to see if it was finally our chance to glimpse what we'd come for.
The sky was completely black, all the stars hidden behind an impenetrable haze. We both started laughing, finally surrendering to the fact that we were out of luck. We still drove to a lookout point and located a couple of stars peeking out between the clouds. We shared a nice, quiet moment beneath the dark sky.
I told my boyfriend I was sorry we didn't get to see the thing we most wanted to see. He assured me that it was okay. We had a lovely time, and being together was what really mattered.
A week later, a spectacular meteor shower was scheduled to take place. I lamented our bad timing. We could have had front row seats to something incredible. We tried to see the shower in Los Angeles, but were once again met by a hazy, dim sky. This time, I didn't laugh. It just seemed unfair. But it turned out that the shower wasn't as spectacular as promised, so even if we'd been somewhere with a better view, there wouldn't have been much to see. There was also a wildfire in Sedona, which we would have encountered if we'd been there a week later.
So, everything balanced out. We wanted to see the stars, but had to settle for a fun trip. I got upset about timing, but later discovered that it actually could have been a disaster to go later.
Sometimes I think things happen for a reason, but usually think it's completely random. The thing I still struggle with is wishing I made different decisions when things don't work out. But we'll have other chances to see a bright, clear sky. I could even assure myself that it will happen when it's meant to, or that there's a reason things worked out the way they did.
I don't necessarily want to, though. I'd rather be okay with accepting and waiting.