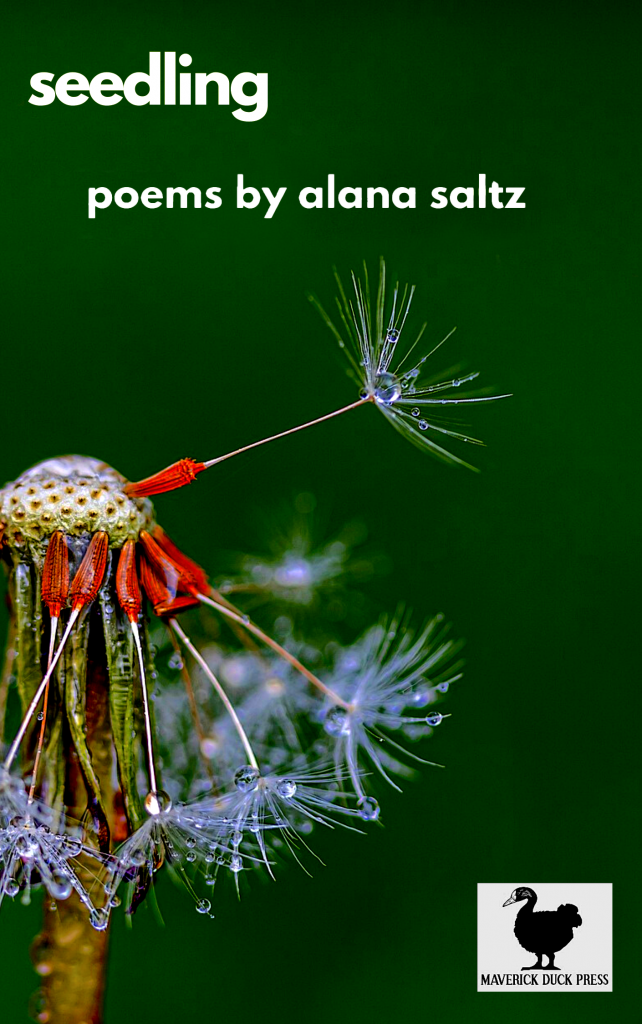 About the Book:
Seedling is now available from Maverick Duck Press. The poems in this microchapbook examine the intersections of childhood, nostalgia, and loss. It can be downloaded as a free/"pay what you want" ebook.
Advance Praise:
"Alana Saltz's Seedling is as gentle as it is poignant, building a delicately remembered world which holds her reader with care even as she converses with grief. Saltz's language is precise, simple, and gripping—these poems will make you stand still." -Carly Madison Taylor, poet & essayist
Select Poem:
"Just Visiting" (published in Okay Donkey)
Review:
Martha Warren, The Poetry Question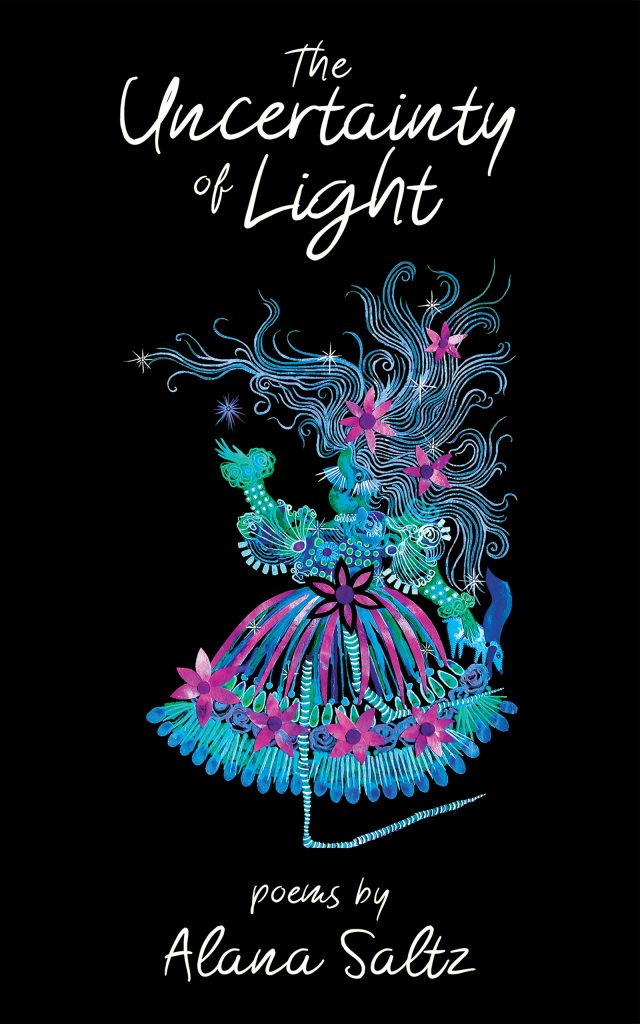 About the Book:
My debut poetry chapbook, The Uncertainty of Light, was released by Blanket Sea Press in January 2020.
The Uncertainty of Light explores how it feels to inhabit a body that is misunderstood. Through lenses of the natural world, astronomy, science fiction, and pop culture, this evocative collection captures snapshots of a life with chronic illness while tapping into universal experiences of searching for meaning, seeking acceptance, and falling in love. Readers will be taken on a journey across oceans and forests, night skies and city streets, dreams and nightmares. Examining urgent matters of life and death, these poems pause to reflect on the deceptively small moments we tend to take for granted.
Select Poems:
"Stargazer" (published in Yes Poetry)
"Field Trip" (published in Philosophical Idiot)
"Our Atlas" (published in Occulum)
Available Now:
PDF, EPUB, and Audiobook via Blanket Sea Press.
Paperback and Kindle via Amazon.
In stores at King's Books and The Nearsighted Narwhal in Tacoma, WA and Open Books Poetry in Seattle, WA.
Advance Praise:
"The Uncertainty of Light is a seamless blend of rawness and craft. Alana Saltz has written a majestic battle cry; a desperately needed glimpse into the world of chronic illness. One cannot help but be humbled to venture between these pages and walk alongside her on her fight for answers and understanding." —Morgan Nikola-Wren, author of Magic with Skin On
"In her magnificent debut, Saltz dives into the abyss of longing, pensive reflection, and hurt, taking us right into the wreck with her. Saltz masterfully keeps us rooted in the body while taking us from the ocean floor through the forest and up to the stars, all the while asking, wishing, and pleading to be seen. In this well-rounded and ethereal voyage, Saltz brings us into her pain and perseverance, letting us grasp for the answers and beg to be found right along with her." —Elisabeth Horan, author of Self-Portrait and editor-in-chief of Animal Heart Press
"The Uncertainly of Light guides you through a journey of pain, sorrow, and ambiguity but also one of beauty, compassion, and marvels. It unravels what being and feeling misplaced is like, never shying away from the truth. It shows you how to slow down and enjoy 'floating and drifting in this blue world' regardless of the uncertainties of light and proudly makes a courageous statement: 'Nothing works./ But I'm here.'" —Nadia Gerassimenko, author of at the water's edge and editor-in-chief of Moonchild Magazine