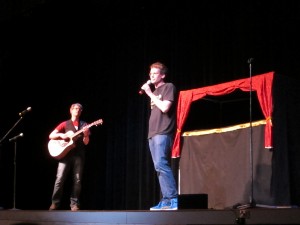 With so many bookstores closing and books themselves moving from printed page to digital screen, the idea of the book tour is becoming more and more antiquated. These days, most of the publicity and promotion for authors is done through the internet. Even though there are still plenty of readings and signings to be found around the country, the book tour as we know it may be on its way out.
Fortunately, this isn't the case for Young Adult author John Green. And ironically, it's because of the internet that his mega country-wide book tour was made possible. For those of you who don't know, John Green started a vlog back in 2007 with his brother, Hank. The two made a pledge to only communicate through video blogs for an entire year. Their vlog, The Vlogbrothers, gained more and more viewers as time went on. They became so popular that over the years, an entire community has sprung up around this project. We're called Nerdfighters, and we're awesome.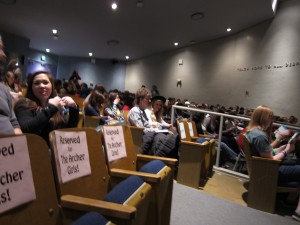 While there's no denying that John Green is an incredibly talented author, his celebrity-status popularity is in large part due to the success of The Vlogbrothers. John and Hank vlog several times a week about their everyday lives, issues they care about, and all things nerdy.
I was lucky enough to attend the Los Angeles leg of their Tour de Nerdfighting last week. And this was no ordinary book reading. The middle school auditorium in Santa Monica held 500 people, and the show was completely sold out. John read from his new book, The Fault in Our Stars, and answered questions from the audience. Hank played some of his hit songs like "Shake-A-Booty" and "Helen Hunt." There was even a puppet show. John and Hank were kind enough to stay for hours and hours after the show to sign books and CDs for everyone in the audience.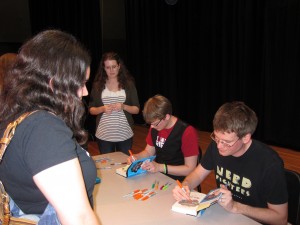 One of the best things about the show was seeing the Nerdfighter community out in full force. Hundreds of people from the internet came together to celebrate John's amazing book, Hank's incredible music, and just plain being nerdy and awesome. I like to think that the Tour de Nerdfighting is the future of book readings. It was a true celebration of art, literature, and community. DFTBA!