On Being Awesome, and the Importance of Community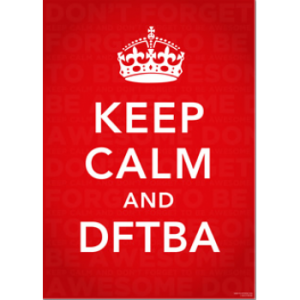 If you've ever seen the phrase "DFTBA" floating around the internet, you may have wondered what it means. "DFTBA" is an initialism that stands for "Don't Forget to Be Awesome." I heard it for the first time when I started watching the VlogBrothers on YouTube almost a year ago today.
Back in September of 2011, I was feeling far from awesome. I was going through a painful breakup, I was struggling through my first semester of graduate school, and I was having a lot of trouble with my memoir. I found myself completely creatively blocked and stuck for the first time in my life.
But as I made my way through the archive of Vlogbrother videos, I felt a sense of comfort and connection with these two nerdy brothers who proudly shared their nerdy lives with the world. I also discovered that there was a huge community of people who watched their videos and connected with them as strongly as I did (we call ourselves Nerdfighters). It amazed me that this community of quirky, unique, nerdy people all found each other through a series of videos on the internet. I started going to Nerdfighter meetups in the L.A. area and attended the Tour de Nerdfighting show in Santa Monica back in February.
Still, what continues to amaze me most about the Nerdfighter community is our catchphrase, "Don't Forget to Be Awesome." It's so simple, yet so powerful, because it's just so easy to not feel awesome. I know I didn't feel awesome last year, and there are certainly days I don't feel awesome now. And if you don't feel awesome, it's easy to forget to be awesome.
To me, being awesome means being yourself and being proud of who you are. It means embracing the things that make us unique, the things that make us different, the things that make us nerdy. And the positive, awesome energy I felt watching the VlogBrother videos online and meeting up with people in real life helped me get through my slump last year.
When it comes down to it, it's all about community. Without community, it's difficult to tune into the awesome parts of ourselves that, on our own, we might think are strange or weird. But when we see others being proud to be different, proud to be dorky or awkward or nerdy, it's a lot easier to be proud of those things too.