Overcoming Creative Paralysis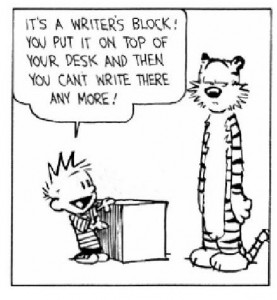 I'm not going to lie – I'm currently experiencing a severe case of creative paralysis. When I first started this blog over a year ago, I was full of ideas. I had some writing projects going, found a few subjects I was interested in blogging about, and slowly started connecting with people online.
I don't know what happened. Somewhere along the line, I lost my confidence. I started questioning every post topic I came up with, every book idea I explored, every word I wrote anywhere about anything.
Now, whenever I sit down to write something, I get stuck. I start to think about how each thing I work on will ultimately help get me where I want to be. Then I realize how far away I am from actually achieving my goals. I get so distracted by feeling overwhelmed that I usually make some excuse to take a break. Before I know it, another unproductive day has gone by, and I'm no closer to realizing my dreams.
I was talking to my friend, Paul, the other day about my creative paralysis, and he gave me some great advice. He said, "Make a to-do list. Think about where you want to end up, and work backwards until you get to what you need to do today." It seems like it should be common sense, but I really hadn't given enough thought to the little steps I needed to take to arrive at my destination.
So, what can I do today to get closer to my goals? Well, I can write this blog entry. I can hang out on Twitter and connect with some new people. I can brainstorm ideas. I can write a couple pages of prose. And I can make a to-do list to look at whenever I feel stuck in the future.
I'll admit that I am still scared and overwhelmed. But focusing on the little steps I can take each day to get closer to my goal makes it feel more manageable. Hopefully, by succeeding in taking steps toward my goal, I'll start to feel confident again.