Indie Publishing vs. Self-Publishing: What's the Difference?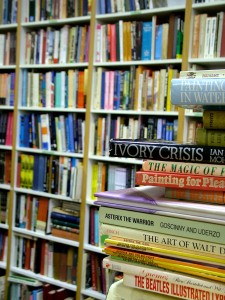 After doing some more research, I've realized that my first post about self-publishing should actually have been called "Taking the Plunge into Indie Publishing."
But why? Aren't self-publishing and indie publishing the same thing?
Well, yes and no. The problem with the term "self-publishing" is that it harkens back to the days where people who couldn't get their work picked up by a major publisher paid tons of money to a press to print their work and sell it themselves. I actually don't think there's anything intrinsically wrong with that model, aside from people losing money because they had no real way to market themselves or their work. The stigma attached to this idea of "not being good enough" to have work traditionally published also made the sale of these self-published works difficult because bookstores typically refused to stock them.
I agree with the growing opinion that publishers, agents, and bookstores should not be the gatekeepers to our reading material. I think readers should be able to choose what they want to read. And the internet has made that possible. While that may mean there's more junk to wade through since anyone can publish a book, you'll ultimately be accessing a much greater pool of knowledge and storytelling than ever before.
Keep in mind that publishers don't choose great books. They choose books they think will sell a lot of copies. And a quality independently published book with the same amount of care in the editing and design process can be just as good or better than a traditionally published book.
Independent (or indie) publishing is a much better, more empowering term for what we as writers are beginning to do with our work. We aren't publishing work by ourselves, but as independent publishing entities within a larger community of authors. No one calls a guitarist who creates a CD and sells it on Amazon a "self-produced" musician. We call them indie musicians, and we love and respect them. The same goes with indie film making.
So, I think "self-published" writers need to work on embracing the terms "indie publishing" and "indie author." That's the only way we'll be able to beat the unfair stigma attached to the old model of "self-publishing."