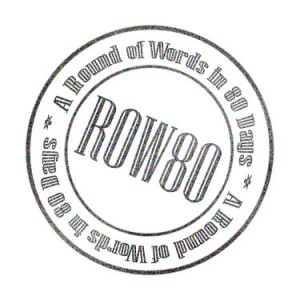 ROW80 stands for "A Round of Words in 80 Days." Click on the logo to find out more about the challenge.
I discovered ROW80 at the perfect time. Last week, I decided to take a last minute leave of absence from my MFA in Writing program. I've been dealing with some medical issues that make traveling difficult. It also seemed like a good opportunity to take some time off to think about my memoir, the program I'm currently in, and what my next steps should be going forward.
But being out of a program means losing those ever-so-important writing deadlines. Thankfully, Round 3 of ROW80 starts tomorrow, so I was able to sign up in time to be part of the round from the start.
GOALS FOR ROW80, July 2nd-September 21
(Edited July 5)
1. Write every day. Period. I've decided not to get tripped up on word counts, hours, or the idea of working on a particular project. Even if it just means a poem or a free write, the act of writing daily is the most important thing.

2. Blog twice a week.
3. Read a total of six books, any genre.
4. Spend one hour a day on social media stuff. This means conversations on Twitter, commenting on blog posts, and generally making new friends and connections.
5. Exercise 3x per week for 20-30 minutes. Ambitious, but worth adding.
I look forward to meeting my fellow ROW80 participants and wish you all the best of luck with your goals!